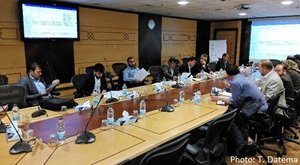 Title: National laboratory quality standard developpment for Afghanistan
Code: D17-17
Date: August - December 2017
Location: Afghanistan
Client: World Health Organization Regional Office for the Eastern Mediterranean
Type of services:
Development of a national laboratory quality standard for Afghanistan in collaboration with the Afghan National Laboratory Work Group.
Report(s):
[15 Dec 2017] Afghanistan is a country with many challenges, not only related to resource availability, or the lack thereof, but also related to the security situation. This has had a dilapidating effect on the medical laboratory services in the country. To strengthen laboratory service in Afghanistan, the WHO Regional Office for the Eastern Mediterranean (WHO-EMRO) has assigned DATOS to assist Afghanistan with development of National Laboratory Quality Standards.
Stepwise approach
Back in 2008, during joint WHO/CDC conference on laboratory strengthening, the recommendation was made that countries should develop national laboratory standards and that countries with limited resources should consider taking a staged approach. As such it was decided to make the National Laboratory Quality Standard of Afghanistan a tiered one. Tier 1 contains the most basic requirements to laboratory quality control and quality assurance, that also very small, one-person field microscopy facilities can implement to provide quality controlled and quality assured services. Tier 2, 3 and 4 are gradually more advanced and one build forth on the other, which means that laboratories can gradually improve. From tier 4 it is only a small step towards compliance with international standards.
Two birds with one stone
DATOS also decided to make the National Laboratory Quality Standard of Afghanistan such that, through its implementation, also elements of the revised International Health Regulations (2005) and the National Laboratory Policy of Afghanistan are implemented. The national standard is based on the ISO 15189 international standard for quality and competence of medical laboratories. In addition, the standard also contains requirements related to laboratory biorisk management based on CWA 15793, to make sure that not only laboratory quality, but also laboratory (bio)safety and (bio)security are addressed.
Consensus approach
The National Laboratory Quality Standard of Afghanistan will be developed through a consensus process to ensure that it is exactly in line with the needs and requirements of the Afghan laboratory system. The first draft standard was developed by Tjeerd Datema over the past months based on extensive review of the laboratory system and regulatory framework of Afghanistan, and discussion with experts. This draft is now subjected to review by the National Laboratory Working Group (NLWG) of Afghanistan. The NLWG consists of representatives of the private laboratory sector of Afghanistan, the Ministry of Public Health of Afghanistan, the Central Public Health Laboratory, Kandahar Regional Reference Lab, National Malaria and Leishmaniasis Control Program, the National TB Control Program, Drug Quality Control Laboratory, and the WHO country office.
Last week a workshop was held where NLWG members initiated review of the first draft.
After review of the National Laboratory Quality Standard, it will be translated into Dari and Pashtu after which plans will be made for launch/publication of the quality standard and its dissemination and implementation. Source: //blog.datos-advice.nl/#post42
Want to know more? Contact us!