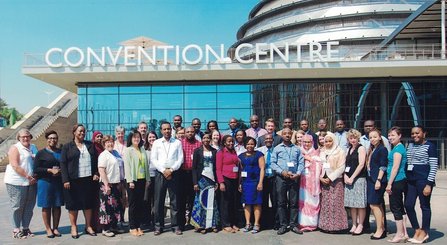 Title: Training on Laboratory Quality Management and the WHO LQSI tool for African influenza laboratories
Code: D17-11
Date: June - July 2017
Location: Rwanda
Client: Association of Public Health Laboratories (APHL)
Type of services:
Training of laboratory managers of National Influenza Centres in 10 different countries in Africa on laboratory quality management and the WHO LQSI tool.
Report(s):
[18 Jul 2017] Last week Tjeerd Datema trained laboratory experts from 10 African countries in laboratory quality management and introduced them to the LQSI tool. The training took place at the National Convention Center in Kigali, Rwanda. The participants all represented national influenza laboratories. This training formed the kick-off activity for a mentor project that the Association of Public Health Laboratories (APHL) and the US Centers for Disease Control and Prevention (CDC) are currently rolling out in the African region.
Mentor Project
Through a two-year mentor project, in which African influenza laboratory teams are paired-up with experienced laboratory mentors from the United States, the influenza divisions of both APHL and CDC work on strengthening of influenza laboratories in the African region. This project covers Burkina Faso, DRC Congo, Mali, Mauritania, Mozambique, Niger, Nigeria, Rwanda, Sierra Leone and Togo.
After the training mentors will visit the laboratories to guide implementation of improvement activities identified during the training course. Throughout the mentor project the mentors maintain frequent contact with their mentees through Skype, email and/or telephone.
Training on laboratory quality management and the WHO LQSI tool
To kick-off the mentor project, DATOS was asked by APHL and CDC to provide training on laboratory quality management and to introduce the LQSI tool. This tool was very well received by the laboratory experts, who found this an extremely strong tool for laboratory quality improvement. At the end of this training the participants sat together with their mentors to develop a workplan for the coming year, which they will implement with guidance from their mentors. Source: //blog.datos-advice.nl/#post31
Want to know more? Contact us!