Title: Better Labs for Better Health
Code: D16-04, D17-09
Date: April 2016 - October 2017
Location: Denmark, Russian Federation, Uzbekistan, Tajikistan
Client: World Health Organization Regional Office for Europe
Type of services:
Development of a National Laboratory Policy best practices document
Development of a National Laboratory Strategic Plan best practices document
Design and execution of a training for members of National Laboratory Working Groups. Topics included: quality management, management and leadership skills, infectious disease updates (Ebola, Zika).
Design and provision of a training of trainers course on laboratory quality management and the WHO LQSI tool to laboratory managers from Service for Supervision of Consumer Rights Protection and Human Welfare of the Russian Federation
Design and provision of an advanced mentor course for quality management mentors of laboratories in Eastern Europe and Central Asia
Design and development of e-learning modules on laboratory quality management to transform the face-to-face training course "Introduction to Laboratory Quality Management and the LQSI tool" into a blended course.
Facilitation of two 1-week Training of Trainers courses in quality management and the use of the LQSI tool
Report(s):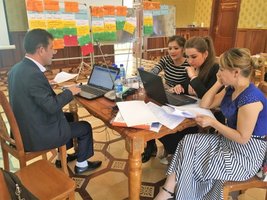 [24 Oct 2017] Pamela Hepple from DATOS and Natalia Costic, WHO consultant, co-facilitated a 5-day course from 09-13 October 2017 as part of WHO/Europe's Better Labs for Better Health initiative.
This course, held in Dushanbe, Tajikistan, consisted of training on adult learning principles, followed by technical training on quality management systems implementation. The two components were brought together on the final day when each participant prepared and delivered a microteaching session based on the quality management systems topics, using teaching methodologies demonstrated during the course.
The participants are now ready to cascade the training on laboratory quality management systems throughout the Tajik laboratory network. Source: //blog.datos-advice.nl/#post39
Want to know more? Contact us!